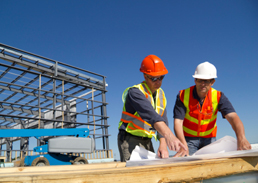 Construction Liens
Salt Lake City Mechanics Lien Lawyer
Utah Title Attorney
Construction companies, developers, property owners, title companies, contractors, and investors all take a vested interest in the timely completion of construction projects. At Crippen & Cline L.C., we are experienced in all matters involving construction litigation including breach of contract, liens, disclosure agreements, and foreclosure.
When you are seeking to protect your rights in construction litigation, we are a legal team you can trust to get results and safeguard your investments. Contact us today for a free consultation.
Construction investments involve complex statutes, multiple contracts and parties, and strict timelines. When you are involved in a construction project as an investor, developer, contractor, or landowner, you want to ensure that your rights are protected at every stage of the transaction. Our attorneys will assist you with drafting, reviewing, or revising a contract and can advocate for your rights should there be a dispute. At every stage, we will keep you well informed of all your options and potential alternatives to litigation so that you can make the best financial decisions for yourself or your business.
We are experienced with all of the following:
Construction litigation
Real estate transactions: contracts
Foreclosure
Disclosure agreements and disputes
Mechanics' liens: challenging, filing, and foreclosure
A mechanics' lien must be filed within 90 days after service is completed. Contact us as soon as possible to protect your rights and to ensure that you are justly compensated.
Mechanics' liens
If you are a contractor or subcontractor who worked on or completed a construction project, we can assist you in filing a mechanics' lien to ensure that you are justly compensated for your work. State statutes governing the rights of contractors, including the Utah Lien Recovery Act, are very strict and require a strict compliance with timelines and filing rules. When you are improperly compensated for your work or you suffer a breach of contract for completed work, our attorneys can assert your rights to ensure that you are paid. If you already have a lien, we can assist you with the lien foreclosure process.
We are also experienced in defending against mechanics' liens and foreclosure. For more information please, contact us for a free consultation.
Contact our offices today for a free consultation with an experienced real estate lawyer. We are highly experienced in all aspects of construction litigation including breach of contract, filing mechanics' liens, and foreclosure.
Free consultations • Major credit cards accepted • Weekend and evening appointments available • Located conveniently in downtown Salt Lake City, Utah next to the federal and state court buildings